;
Welcome To Colbrow  Medics
Established under the auspices of Colbrow Healthcare, a long standing and reputable health care service provider established in 1957; Colbrow Medics commenced in 2006 as First Aid @ Events.
The only pre-hospital care solutions provider in Australia who is part of a larger specialist healthcare placement organisation.
Established in recognition of the need for a reliable and professional first aid service in Victoria.
Can provide unrivaled services to its clients, drawing on the resources, expertise and services of the other divisions within the group when required.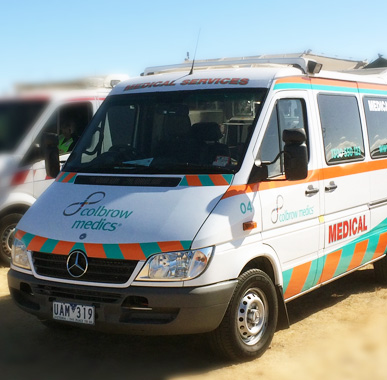 Throughout its years of operation, the division has grown and evolved into a leading pre-hospital healthcare provider in Victoria, with operations nationally. The name Colbrow Medics was adopted in 2012 to show the changing nature of the organisation, and better reflect the current capabilities of the company which has expanded and evolved into the provision of pre-hospital care services (both first aid and paramedical care), as well as first aid training and first aid supplies.
Holds extensive experience in the provision of single-response first aid coverage as well as 24 hour, multiple-site medical services for major events.
Services rendered to venues, sporting clubs, construction sites, productions, major music festivals and corporate clients, such Metro Trains Melbourne, has been completed with great success.
Has its own dedicated management and operational team who works in conjunction with the larger group's management to ensure that the best level of pre-hospital care is provided to all clients.
Under ISO 9001:2008 accreditation, has developed systems to ensure consistency in all core processes.
With the backing of Melbourne's premier nursing agency, the selection, recruitment and training of Colbrow's Medics' pre-hospital care personnel is second to none. At present, Colbrow Medics employ over 100 pre-hospital care personnel throughout Australia, including qualified and experienced First Res-ponders, Ambulance Paramedics, Registered Nurses and Medical Practitioners. This is in addition to having access to over 300 Registered Nurses from the other Colbrow Healthcare divisions when the need arises; ensuring that our  commitments and obligations to our clients can at all times remain fulfilled. Colbrow Medics operates from a large office and warehouse space in Clayton, Victoria, and can draw on the experience, resources and healthcare expertise of a leading healthcare solutions provider, with over 50 years of experience and success. Divisions of the Colbrow Healthcare Group include the following:
Others Services from Colbrow