;
Provide First Aid – 7 CNE Points
Purpose :
The aim of this course is to develop a student's competence and confidence in providing emergency first aid. This includes calling for help, the ability to respond to first aid situations, casualty assessment, decision-making and basic life support functions cardiopulmonary resuscitation (CPR). This course covers adult and child conditions.
Format : A mixture of theoretical and practical elements, with at least 50% of time spent on practical skills
Prerequisites : Must be at least 14 years of age by the last scheduled session of the course
Qualification issued : Statement of Attainment – Provide First Aid
Legislative Authorisations : Conforms to the requirements of Victoria Occupational Health & Safety Authority First Aid in the Workplace Code of Practice, 1995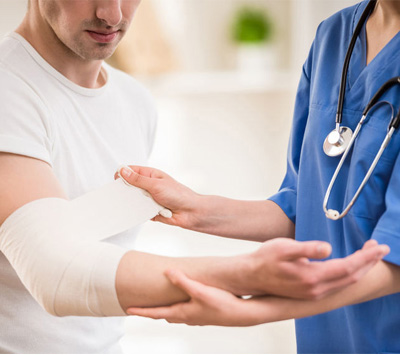 Apply Life Support Skills
Provide First Aid Management Skills for Burns
Demonstrate the identification and Management of Internal Bleeding
Manage an Emergency
Provide First Aid Management for bone and joint injuries
Manage Emergency Situations
Provide First Aid Management skills for bites, stings and poisoning
Manage an acute illness
Describe the recognition and management of an eye injury
Manage Hyperthermia and Hypothermia
Describe the basic structure and function of the human body
Provide First Aid Management skills for chest, abdominal, pelvic and head injuries
Course Length : Approximately 7 hours (face to face delivery)
Instructor : EFA authorised First Aid/CPR Trainer
Requirements for Successful Course Completion :
Attendance at all sections of the course is required
Active participation in group activities and discussions involved in the training program
Successfully complete progressive practical assessments. Progressive assessment of the competencies will be conducted throughout the course
Successfully complete either a multiple-choice theoretical assessment, demonstrate practical application of skills or answer structures verbal questions in a one on one or group capacity by the end of the course
Certificate Validity Legislature : Approval valid for 3 years from the completion date. It is recommended that cardiopulmonary resuscitation skills be refreshed annually.
Participant Materials : Manual, A4 Certificate
Notes : Due to the practical components of the course, participants are advised to wear comfortable clothing.